A Celebration of Wetlands
World Wetlands Day, a global celebration to raise awareness on the significance of wetlands,
and the indirect and direct relationship to people and the planet.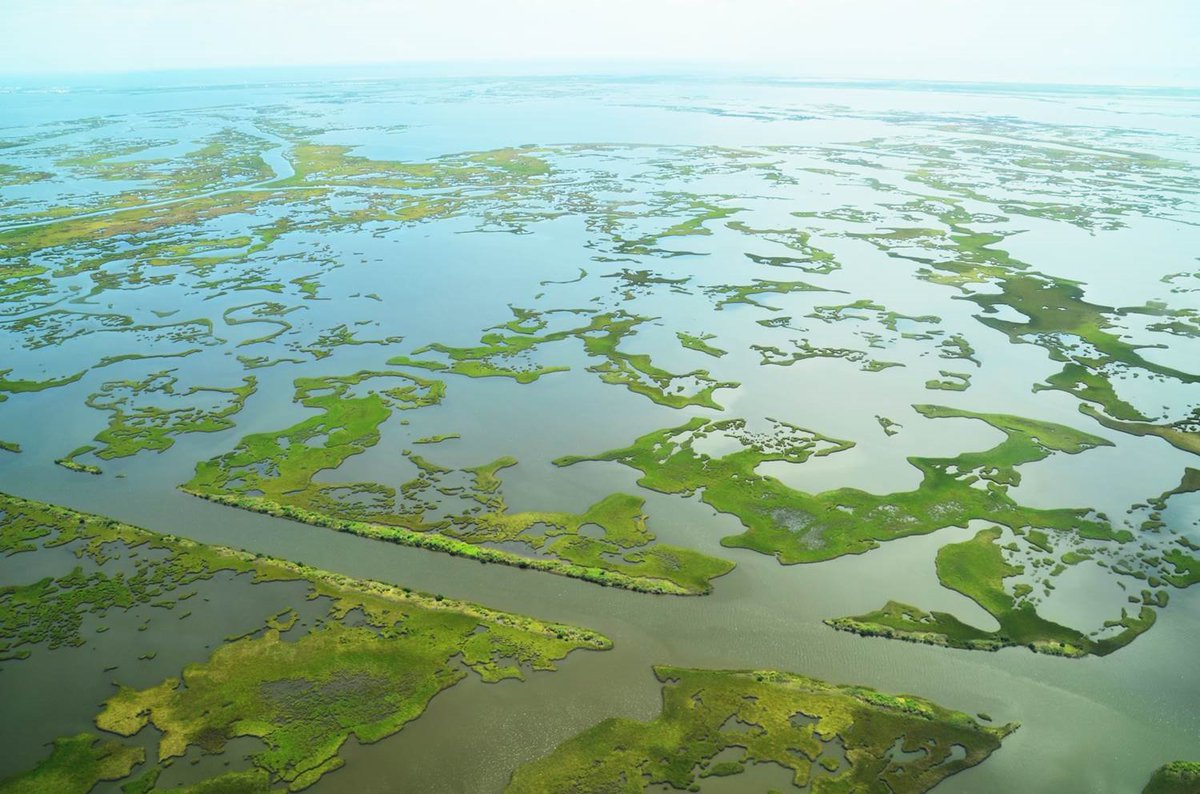 When hear food dishes like fresh fried shrimp po-boy, seafood gumbo, grilled redfish, fried alligator or catfish… do you think of terms like, "swamp to fork" or "pole to plate?" In Louisiana, a namesake of the state is our fresh-caught cuisine harvested by communities whose lifeblood are Louisiana wetlands. While those wetlands produce seafood, the dependence and importance they hold is far deeper than the bounty of aquatic life that thrive there. Wetlands put Louisiana "on the map" globally, for a number of different reasons, and today on February 2, we celebrate this critical component of our environment during World Wetlands Day. World Wetlands Day is a global celebration to raise awareness on the significance of wetlands, and the indirect and direct relationship to people and the planet.
What are wetlands?
Wetlands are land areas defined by the presence of water, specifically the saturation of soils, either seasonally or permanently. In most cases, wetlands are known to be transitional regions between terrestrial and aquatic ecosystems. Wetlands are one of the most thriving habitats to wildlife, supporting a huge array of organisms, such as wetland-adapted plants, birds, fish, amphibians, shellfish, and a slew of microorganisms.
Variance in water level and location often influence the environmental characteristics found in the different types of wetlands. Simply stated, inland wetlands are comprised of marshes, ponds, lakes, fens, floodplains, and swamps. Wetlands positioned in a coastal watershed, coastal wetlands, include saltwater marshes, estuaries, mangroves, and lagoons.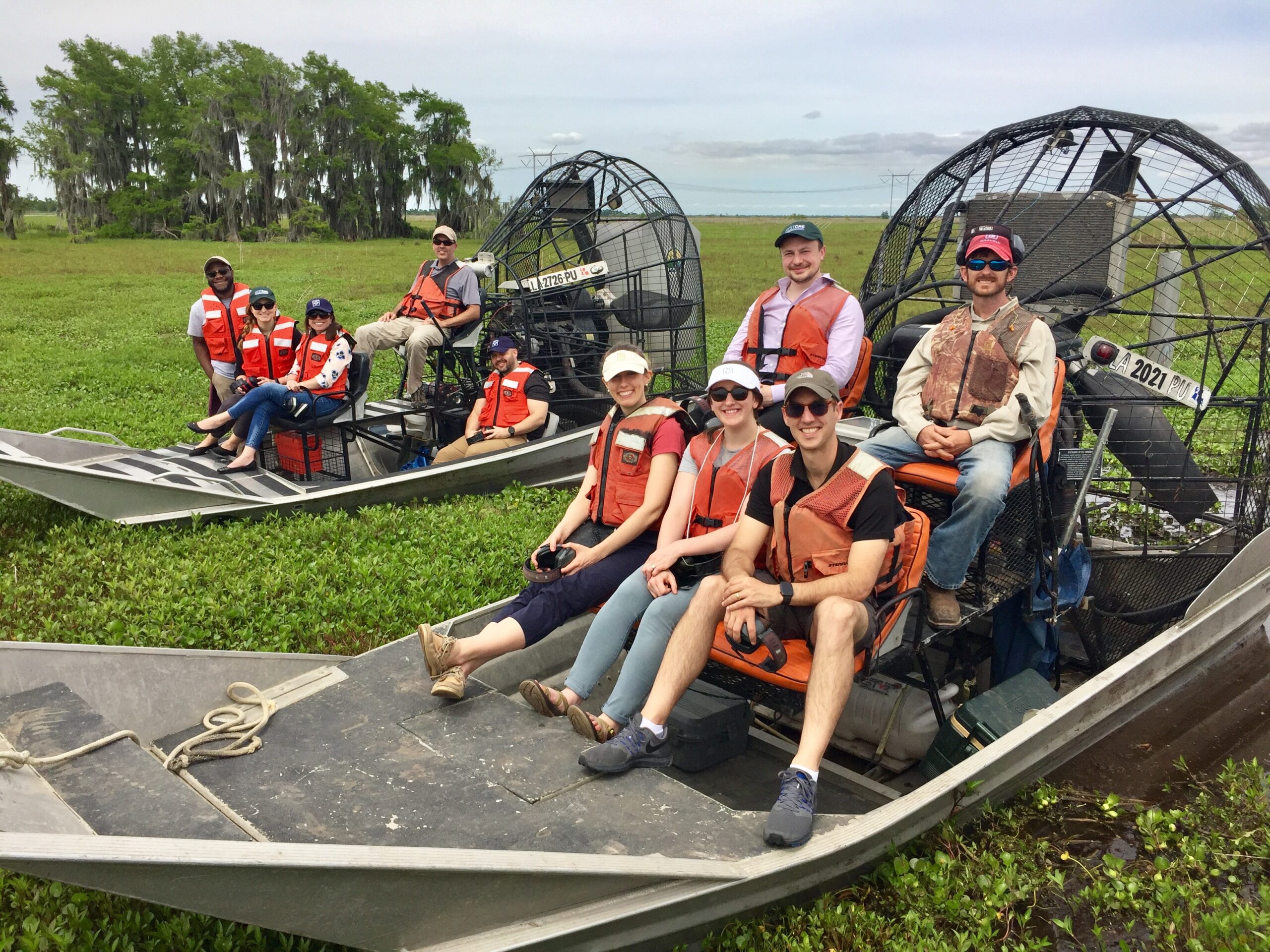 The value and benefits provided by wetlands are immense, vital, and extend far beyond Louisiana—where 40% of wetlands in the continental United States are located, yet 80% of wetland loss. Coastal wetlands act as a first line of defense in the face of weather events to provide protection as a natural buffer. Wetlands also contribute greatly to erosion control, water quality, commercial fisheries national and internationally, carbon sequestration, and recreation. In Louisiana especially, the extensive environmental and economic importance of wetlands drive the dire fight to restore our coast.
While the types and locations of wetlands in Louisiana are widespread, the Bayou Region—namely Lafourche and Terrebonne Parishes—house an assortment of wetlands within miles, or less, of one another. Across basins of marsh, swamp, and estuaries, from "up the bayou" meandering to the gulf and barrier islands, wetlands are of high assortment, high value and the loss of such is high risk.
While there truly is no time to lose in restoring our wetlands, the science-based tools being used to fight land loss, such as the State's Coastal Master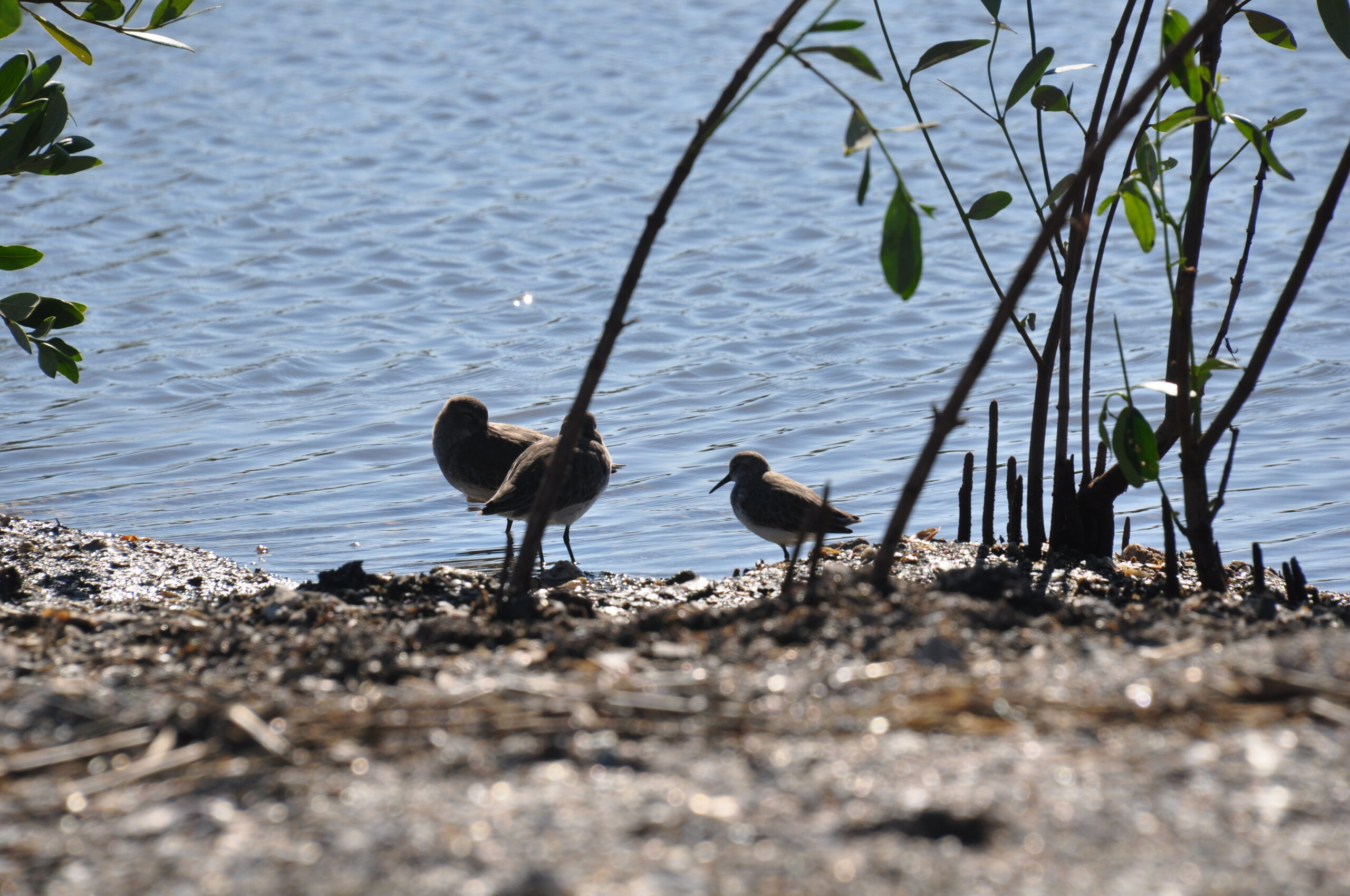 Plan, offer solid solutions. Restore or Retreat is excited to partner with the Louisiana Coastal Protection and Restoration Authority (CPRA) to offer a webinar highlighting science-based solutions on a southern chain of wetlands via coastal restoration project, Terrebonne Basin Barrier Island and Beach Nourishment project (TE-193).
Join ROR and CPRA Project Manager, April Newman, on Tuesday, February 23 at 12:00pm for an overview and update on this Terrebonne Parish barrier island project during Restore or Retreat's Field Report, a webinar series focused on all things coastal in Louisiana's bayou region. As a first line of defense, barrier islands are critical to the natural protection system of a community and restoration is key to prolonged sustainability.
With international focus on wetlands across the world today, we celebrate the similarities in these environmental ecosystems, but also the uniqueness of what makes Louisiana a standout wetland state contributing to local, state, national and global impacts, and nurturing the connection of people to the planet. So, with the health of our wetlands, coast, community and culture in mind while working to save this irreplaceable region, we would like to wish you a happy World Wetlands Day!!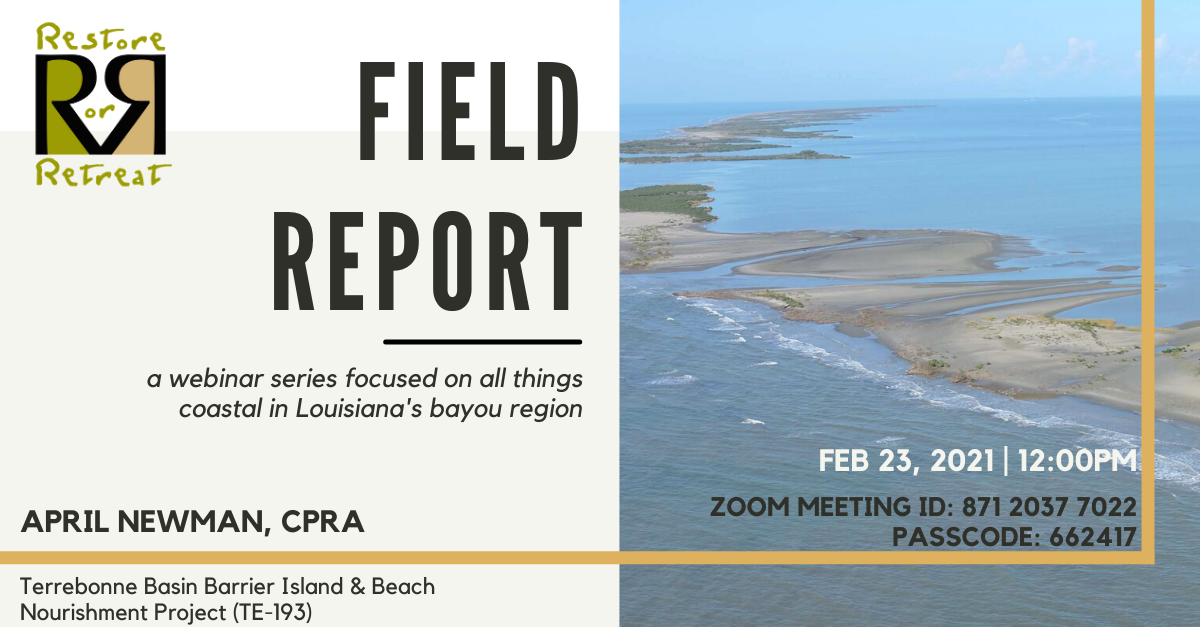 We hope you join us for ROR's Field Report as we kick off our 2021 series with a project overview and update on the Terrebonne Basin Barrier Island & Beach Nourishment (TE-193) project from April Newman of Louisiana's Coastal Protection and Restoration Authority(CPRA).
---
Tuesday, February 23, 2021  |  12:00pm Noon
Zoom Meeting ID: 871 2037 7022
Passcode: 662417