ROR Staff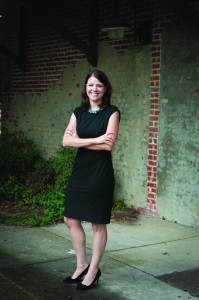 Simone Theriot Maloz
Executive Director
Restore or Retreat, Inc, ushered in 2005 with a new Executive Director, Terrebonne Parish native Simone Theriot Maloz.  Simone works daily on the local, state and federal levels to advocate for the needs of the disappearing Louisiana coast, specifically the Barataria and Terrebonne Basins.  She has continuously worked on large-scale and long-term projects for the basins such planning for major sediment and freshwater diversions and operation of existing restoration projects such as Davis Pond and Bayou Lafourche.
Since the devastating hurricanes of 2005 and the 2010 oil spill, she has also been tracking the process of the different planning efforts underway, including the Natural Resources Damage Assessment Act (NRDA), Clean Water Act Penalties, the 2012 and 2017 State Master Plan Update and the Louisiana Coastal Area Study projects, all to ensure the needs of the Barataria and Terrebonne Basins are being adequately met with the necessary sense of urgency in the face of what is at stake.
She was appointed by Governor Jindal to serve on the Governor's Advisory Commission on Coastal Protection, Restoration and Conservation in the summer of 2014, and is a member and co-chair of the Commission's Diversion Subcommittee.  She is the Infrastructure and Governmental Affairs Co-Chair for the South Central Industrial Association, where she was honored with the Tillman Esteve Outstanding Member Award in 2010.  She formerly served as Chair of the Lafourche Chamber of Commerce, and on the board of the Bayou Industrial Group.  She is a graduate of both Leadership Louisiana and Leadership Lafourche, where she serves as a board member.
Before joining the organization, Simone worked as a Development Representative for the American Cancer Society's Houma office, where she was responsible for recruiting and training volunteers and coordinating fund raising events such as Relay For Life.  She also worked as Coordinator of Clinical Recruitment and Retention at Terrebonne General Medical Center.  Simone is a graduate of Nicholls State University, with a Bachelor of Arts in Mass Communication, where she received the Outstanding Public Relations Graduate award.
Simone is the daughter of Rachael and Charles Theriot of Houma, and is married to Wilson Maloz III of New Orleans and has two children: Benjamin, 5, and Penelope Grace, 2.   She plans on having the Louisiana coast continue to serve as her home and the home of her children and grandchildren.