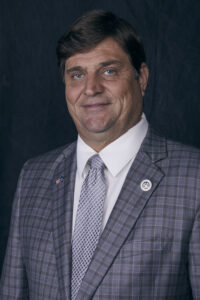 Joseph A. Orgeron, Ph.D.
Executive Director (Effective July 1st, 2022)

Dr. Joseph Orgeron was raised on the bayous of south Louisiana during the era of the 'Rise of the Cajun Mariner'.  Graduating from South Lafourche High School in the slump of the 1980's oil-downturn, he opted to pursue an education in something OTHER than the family business of offshore oilfield service vessels.  Opting to study physics at Nicholls State University in Thibodaux, he went on to earn his doctorate in Applied Experimental Physics from the University of Texas at Dallas.
His worked 8 years for global candy maker M&M/Mars in New Jersey but, by 2001 he yearned to move back to the bayou and into the family-owned offshore vessel business.   As Special Projects Manager, he focused on projects utilizing their fleet of offshore liftboats outside of the normal oil & gas industry, such as specialty offshore construction, scientific coring jobs and ultimately into the burgeoning US offshore windfarm market on the East Coast.
In July 2020, he was elected as Louisiana State Representative for District 54 representing the people and maritime industries along Bayou Lafourche from Hwy-90 down to Port Fourchon & Grand Isle.  He serves on the House Natural Resources committee and on BOEM's Gulf of Mexico Intergovernmental Renewable Energy Task Force that focuses on opening the gulf to offshore wind leases.
Lastly & most importantly, after serving for 15 years on the Restore or Retreat Board of Directors and legislatively advocating for coastal restoration and resiliency project, he is now happy to take the executive director position at Restore or Retreat.
You can email Joseph on coastal issues directly at [email protected]