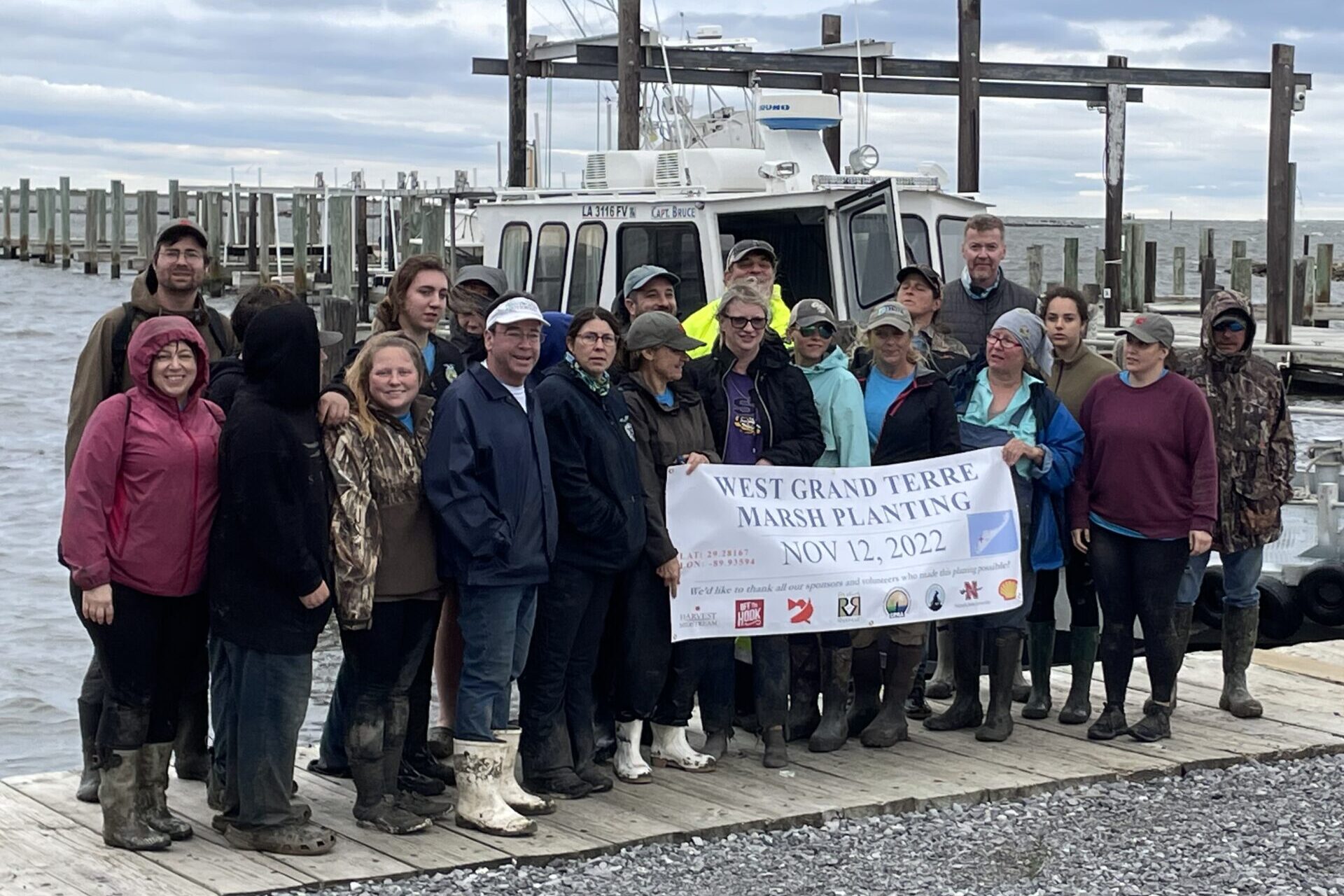 Happy Holidays & Winter Coastal Updates
Vanishing Paradise newsletter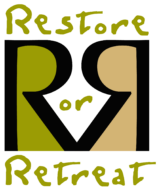 Winter Update
Restore Or Retreat Supporter
First of all, hoping you had a Merry Christmas and wishing you a Happy (& Coastally-Restorative) New Year!!
This year was a great one for our Louisiana coast with no hurricanes this past season and a chance to return to something resembling normalcy.
I hope that you enjoy reading below about the ongoing projects that are helping improve resiliency and RESTORE our most-important estuaries.  These include very large-scale projects like the MBSD (Mid-Barataria Sediment Diversion) getting the OK to proceed, mid-sized projects like the Caminada Headland Back Marsh Creation that was just completed, and smaller projects like the RoR-Sponsored West Grand Terre Marsh Planting Project which will help preserve some of the fish-cuts and inlets on the backside of the island.
As always, I want to thank all of our supporters, members, stakeholders and fellow coastal advocates in helping Restore Or Retreat be a voice in 'Preserving our Coast, Community, and Culture!'
Lastly I hope your 2023 brings you much happiness and peace.
Joseph A. Orgeron, Ph.D. — Executive Director

| | |
| --- | --- |
| | |
For all of us concerned with coastal restoration, the US Army Corps of Engineers granted us an early Christmas present in the form of a positive 'Decision of Record' to Louisiana's CPRA (Coastal Protection and Restoration Authority) which allows them to proceed with construction of the $2.3 billion dollar project.  Following over 100 years of the 'Mighty Mississippi' being tamed to flow within the levees, this project will allow marsh-building freshwater from the river to once again flow into the eastern Barataria Basin.  Many believe that the most effective and long-lasting way to build back our coastal estuarine ecosystems is to allow mother nature to do it in the same manner that this area was originally built up.  With this milestone past, construction is likely to begin next year. 
Two projects pertaining to LA-1 that will certainly improve our resiliency following future storms include the completion of the LA-1 Elevated Highway between Golden Meadow and Fourchon …AND… the completion of an Entergy Project to place over 7 miles (primarily between Fourchon and Grand Isle) of high-voltage cable underground.
With construction expected to be complete by July of 2027, this last segment of highway will allow our port authorities and those who utilize the port for offshore energy services to get back up and running in even shorter time than before following hurricanes, as well as keep traffic flowing during the occasional high-water events. Click the above 'LA-1″ title for more information.
Immediately following the aftermath of Hurricane Ida, Entergy ran subterranean, high-voltage power cables along the northside LA-1 between Dogris and Thunder Bayou. As part of their agreement with LA-DOT, Entergy went back and revamped the shoulder-area with rocks and covered it with a slurry of concrete to hold it in place along the entire length of the cable-lay.  This new style of hardened armoring along with the Class-1 power-poles (placed within hammer-driven caissons and filled with rock should provide us a new level of power-transmission resiliency that we have not seen before.  Click on the 'Fourchon-To-Grand Isle' link for more information.
Video Highlighting Entergy's Fourchon-To-GrandIsle Improvements
The EPA-sponsored Caminada Headland Back Barrier Marsh Creation project began in June 2020 and the dredging was completed just few weeks ago.
Working with the Louisiana Coastal Protection and Restoration Authority (CPRA) and EPA, the contractor – Great Lakes Dredge & Dock Corporation (GLDD) has created approximately 900 acres of coastal habitat in southeast Louisiana.  If one takes an airboat tour from the far west end nearest to the Fourchon Beach Access Road and traveles (nearly 7 miles!) all the way to Elmer's Island end of the project, one really gets an idea of just how big this project is.  
Grand Isle Beach & Cheniere Breakwater Projects Continue
Following hurricane Ida, a 4-phase plan was made to improve Grand Isle and it's surrounding area.
Phase-1 was to work on the beachside set of breakwaters on the far west end of the island and extend the first set of rocks (western-most, closest to Caminada Pass) all the way to the jetties that form the eastside of the pass; and this work was completed late in the summer of 2022.
Phase-2 is to build 5 segmented breakwater jetties on the northern side of Caminada Bay to protect the Cheniere side.  This work started early in the Fall of 2022 is currently nearing completion with only the western-most set of breakwaters left to complete. [If you notice a different color of rocks now being placed, that is due to the historic low levels of the Mississippi River that is making it difficult to get rocks from the planned quarry and instead now being sourced from an alternative quarry.]
Phase-3 is to fix all the breeches in the Grand Isle dune (burrito) levee, achieve a uniform profile across the length of the island, and lastly to add sand via hydraulic dredging where necessary.  This work is currently underway in 'skip around' fashion.
Phase-4 is to eventually to spend the remainder of the $120 million allocated to place segmented breakwaters (similar to those on the eastern half, as well as the 5 on the western end) across the remainder of the island.  This project is likely not to begin until after the 2023 hurricane season.
Oyster Shell Recycling Projects In Terrebonne Parish
This is the second reef CRCL and its volunteers have built with the Pointe-au-Chien Indian Tribe, whose community in Lafourche and Terrebonne parishes was hit hard by Hurricane Ida in 2021. The oyster reef will help slow erosion as well as create habitat for new oysters and other wildlife, and it will minimize storm surge during hurricanes, protecting the community.  The reef was constructed in late September and early October with the help of more than 150 volunteers.
West Grand Terre Planting Event — Saturday, November 12, 2022
One of the ambitious projects that Restore Or Retreat took on in 2022 was to compliment the great work done by CPRA's dune nourishment project on West Grand Terre by organizing 30 volunteers to travel by boat and plant over 7,500 Vermillion Smooth Cord Grass plugs and 516 Black Mangroves in a 10-acre area on the north/bay side of the island in order to preserve the unique topography of small cuts and inlets that had formed and already began providing habitat for small bait fish and larger gamefish predators.
© 2022 Restore or Retreat, Inc. 
P.O. Box 2048-NSU, 322 Audubon, South Babington, Thibodaux, LA 70310
Learn more about us at: www.RestoreOrRetreat.org