Caminada is the Coast's Crown Jewel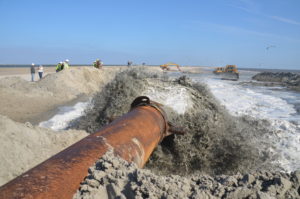 I have always loved the beach– now, even more so, knowing that the restoration of critical habitat is near complete on the Caminada Headland!
With funding available from criminal fines as a result of the 2010 oil spill, the Caminada Headland Beach and Dune Restoration Project kicked back into high gear in 2015, thanks to over $144 million from the National Fish and Wildlife Foundation (NFWF.)  The funds, which are on top of the previous $70 million from the State for the first increment already constructed, will go a very long way– over 13 miles to be exact– to making this one of the most beautiful, and most important beach habitats along the Gulf Coast.
Over the last 100 years, the Caminada Headland has experienced significant shoreline erosion and land loss, averaging 35 feet per year, to its marsh, wetland, beach, and dune habitats as a result of storm overtopping and breaching, saltwater intrusion, wind and wave induced erosion, sea level rise, and subsidence.
In total, the Caminada Headlands project aims to create and enhance nearly 800 acres of beach and dune, reinforcing miles of barrier headland habitat, reducing the impacts of storm events on Port Fourchon and Highway 1, a vital hurricane evacuation route for Fourchon and Grand Isle. The Caminada Headland also provides important habitat for nesting shorebirds as well as migratory birds as it is one of the first available stopover sites during migration. The headland is also critical habitat for the endangered piping plover.
The project—the largest bid out to date by the State's Coastal Protection and Restoration Authority—has been one both coastal supporters and those in the growing water management industry are watching with keen eyes.  This project was also the first time the State tapped into a remnant barrier island 27 miles off the coast of Louisiana, known as Ship Shoal, allowing new material to enter the starved system. The total material placed for Cam I alone was 3,633,000 cubic yards of material mined from this abundant coastal resource.  The second increment will see an additional five million cubic yards placed on the eastern end of the beach near Elmer's Island also from Ship Shoal.
Despite the typical harsh conditions of Louisiana's shoreline, the first phase of the project has retained over 3.4 million cubic yards of material, or a 94 percent.  Another three percent is figured to have already landed in Caminada Increment II, thanks to the unique position of the Caminada headland at a nodal zone (an area where currents move sediment both east and west) and the shoreline's longshore sediment transport pattern.
With the momentum from projects like Caminada and the $110 million Whiskey Island project set to begin in Terrebonne Parish, the future for restoration looks brighter than ever before!