ROR's 2019 Annual Report
No Time to Lose

If there is any connection between today's circumstances with the global pandemic and coastal Louisiana, it is the idea there is no time to lose. The time to act is now, with leaders making decisions based on the best available science and implementing the best plans possible for the benefit of the entire community.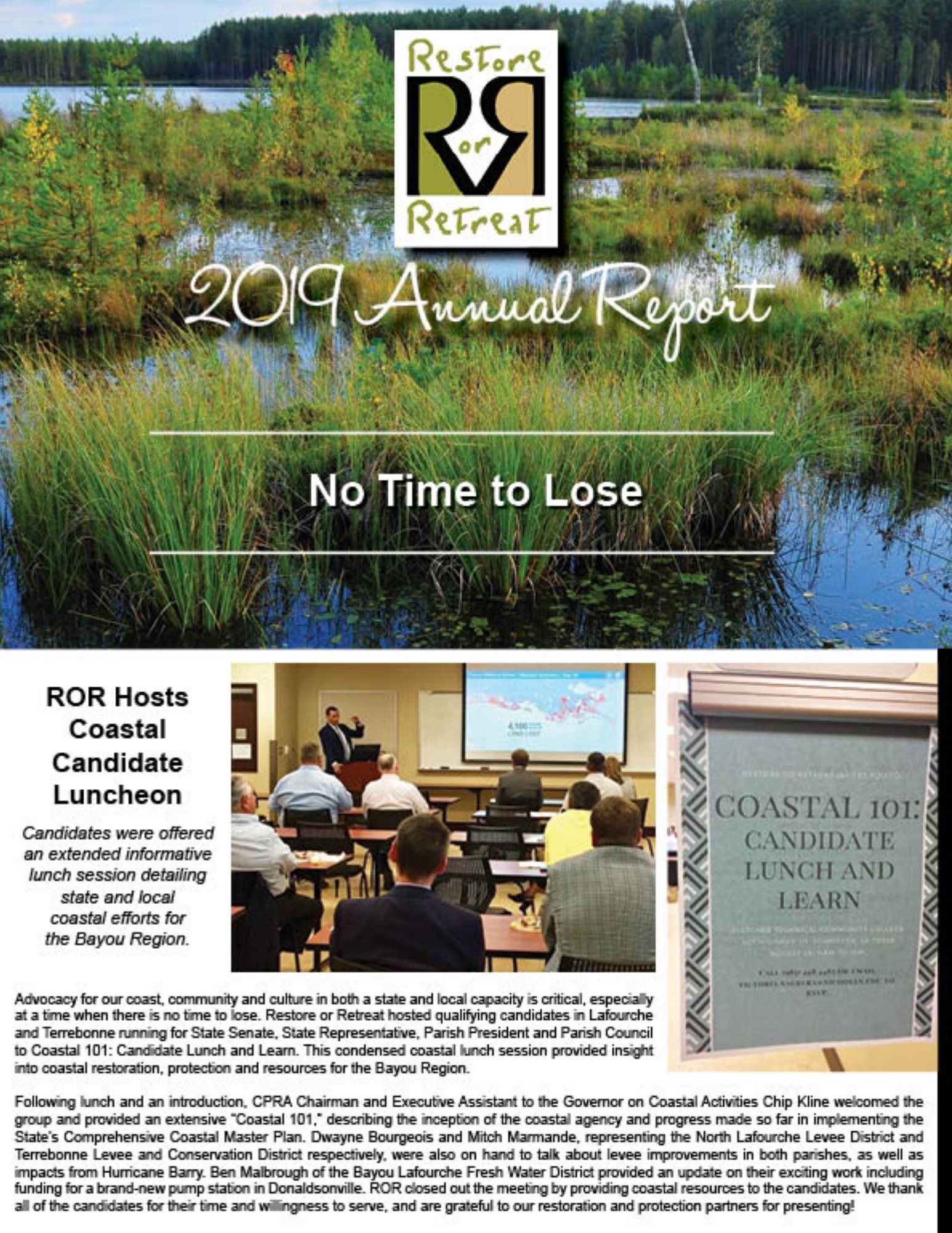 In coastal terms, the theme of no time to lose is a common phrase used in the past years to describe the urgency needed to continue the important work of restoring Louisiana's coast, using the backbone of the State's Coastal Master Plan. No Time to Lose is also the theme of ROR's most recent edition of the organization's annual report, a document recapping Restore or Retreat's work from the previous year.
Spoiler alert: our 2019 Annual Report details organizational events for our members and guests, including informative sessions ranging from local and state candidates, high school and elementary students and public events that we are proud to be a part of. It highlights how we connected with Bayou Region's sportsmen and women over an in-house brewed cold beverage, participated in a celebratory interview with Governor John Bel Edwards in honor of Delta Dispatches 100th episode, hosted tours from a bird's eye view in a seaplane and an air boat, and took a trip (or two) to our nation's capital to discuss increasing GOMESA, or the Gulf of Mexico Energy Security Act. We also take a look at priority Lafourche and Terrebonne Parish project highlights with a focus on secured funding. We won't spoil all the fun, so click the button below to read all of the details!
While this is only a peek into ROR's daily work on the federal, state, and community level, looking back on the past year is a great reminder of important progress, which could not be possible without the support of our membership and Bayou Region. No matter where 2020 may take us, we are hopeful for another successful year in restoring coastal Louisiana and will continue working toward saving our coast, community and culture because there is no time to lose!